Volunteers
Volunteer service is both needed and appreciated. Your efforts will give you a sense of belonging, a sense of being able to make a difference, and gratification of a job well done that is worth doing.
Donating your Internet skills and contacts is what the Media Research Center of Alaska needs right now. We don't need a lot of your time but instead, your expertise, your ability to capture this vision, and a commitment to continually be vigilant to opportunities on behalf of the Media Research Center of Alaska.
What we need:
To make our presence known to all Alaska citizens.
Volunteer activities:
We need Volunteers to watch for FREE advertising opportunities on the Internet. You may know of a website that our mission is a good fit with, such as ANY Alaska website, or any website that in the media industry, including media watchdogs groups. We want you to suggest our site to them - getting our banner ad or our text description placed on their website. Even a simple link of our name is great. The MRCA, in return, offers a reciprocal link. Also, you may know of an electronic magazine (eZine) where there is a good fit - we want to know about it. Also, non-profits in general are our partners. All of these areas are in need of development and we need a savvy team of Internet workers. If you'd like to apply, please email us with your request. We truly appreciate your help.
Samples of what we'd like to get posted out on the Internet:
Text Description to place:
Research Center of Alaska is committed to identifying, reviewing, and reporting bias in the media that violates the media industry's code of ethics, as it pertains to media in Alaska. MRCA also educates its members and the general public in media ethics so that each person can become a critical thinker/evaluator when absorbing media coverage rather than swallowing what is written, hook, line, and sinker.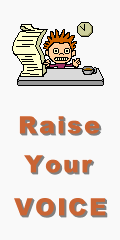 Link above to:
(Contact us if your want to be a Volunteer)
As a Volunteer of the Media Research Center of Alaska, your name will appear on our volunteer's list in our Webpages as well as in our eZine. You will be able to refer to your participation in the MRCA's Volunteer Program as needed.
THANK YOU.
Become a contributing member to the Media Research Center of Alaska so that we can continue to offer FREE education in regard to media bias, report on media bias, and offer the ACTION GUIDE so that it is easy for you to proactively fight bias in the media.
Please go to the ACTION GUIDE so that you can easily raise your voice in the community in conjunction with others so that the media is aware of public sentiment about their reporting practices.